AirLancer I-360D-5G
The LANCOM AirLancer I-360D-5G indoor omni-directional antenna is ideal for use in 4G/LTE networks and also supports the new 5G frequencies. By connecting to LANCOM cellular routers, it improves signal quality in all environments. With the fold-out stand and the permanently attached 2-meter cable, it can also be flexibly placed on windowsills, cabinets, as well as desks, or attached directly to the window pane with the included suction cups.
Easy installation on window sills or electrical cabinets—no drilling required
Includes suction pads for attachment directly to the window pane and 2m permanently connected cable with SMA connector
Note: For maximum 5G performance, we recommend the use of the AirLancer O-360Q-5G outdoor cellular antenna with 4x4 MIMO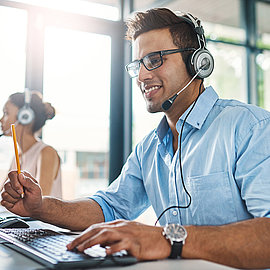 Most questions can be resolved best in direct contact: We look forward to answering your questions and requests by phone or via the contact form.
Inside Sales International Team
+49 (0)2405 49936 122