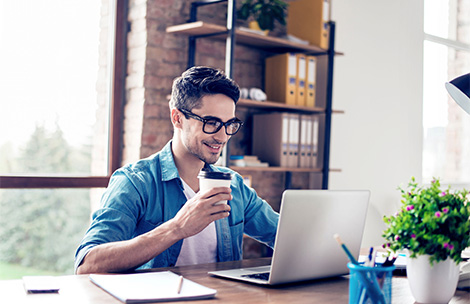 Networking of company sites
Smooth and reliable cross-site communication is essential for efficient and economical operations. The individual nature of the structures at each different enterprise demands a flexible solution that perfectly fits your needs and, above all, offers a secure network design. VPN devices from LANCOM offer the versatility for the secure and reliable implementation of complex networks with large numbers of different sites, and also for smaller networks which integrate external employees.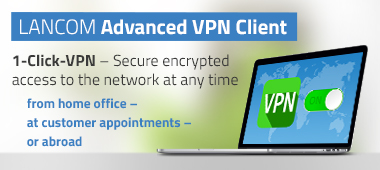 Virtual private networks (VPN) are an economical solution for inter-connecting numerous sites, even if they are separated by great distances. The key factor: VPNs use the public Internet as a medium for communications over connections that are fully secured against access from the outside. A secure VPN connection allows companies to connect their branch offices or affiliates to the internal network. The access rights are controlled by virtual networks, which ensure that each and every network participant only has access to the corporate data that are relevant to them.
Your benefits
By means of the Internet, up to several thousand sites are collected together to form a single large entity—a Wide Area Network or WAN.
Employees at every site use this WAN for real-time access to vital information and resources.
Companies can network entire supply chains over VPN—including their suppliers and customers.
Supermarkets and retail stores are connected to their banks via VPN and synchronize every transaction directly with their main office.
Company representatives in the field use VPN to connect to their company intranet and databases for access to the very latest information.
Replace your traditional, static, manually configured network infrastructure with an automated software-defined WAN! This saves time and reduces your IT costs radically. The unbeatable benefits of LANCOM SD-WAN
Mobile access to the company's network
Today, a working world without flexibility is unthinkable. Reconciling work and family life, the responsibility to remote sales regions, working as a sales representative for foreign companies—these are typical issues forcing companies rethink their operations.
In the same way as a company can network its sites, VPN enables mobile employees and home offices to be quickly and, most importantly, securely integrated into the company network. The only requirements are Internet access and one small software tool: the LANCOM Advanced VPN Client on your laptop or PC. Mobile devices such as smartphones and tablet PCs can also communicate securely via VPN. Here, users can use the free app LANCOM myVPN to establish a secure VPN connection.
Your benefits
Mobile employees or employees at their home offices work with all of the convenience and the same information as their colleagues at the office
The have unlimited access to e-mail and other vital resources
The devices located at the home offices are remotely configured by the central IT department
Secure access to the company's headquarters is assured by a VPN tunnel
Whitepaper Home office
Read in our Whitepaper how to connect to your company network securely, at any time, and from anywhere with the LANCOM Advanced VPN Client and how to work from your location as if you were right in your company's premises.
Find the Whitepaper here: Home office – Working securely from home
Connecting branch offices
Connecting branch offices and partner companies
A VPN connection can be used to securely connect your branch offices to the corporate network, and to exchange data with partner companies. The access rights are controlled by virtual networks (VLAN), which ensure that each and every network participant only has access to the corporate data that is relevant to them.
Economically efficient solutions like this allow a number of securely isolated networks to operate in parallel on a shared infrastructure. The result: Huge savings in the costs of acquisition, configuration, and maintenance!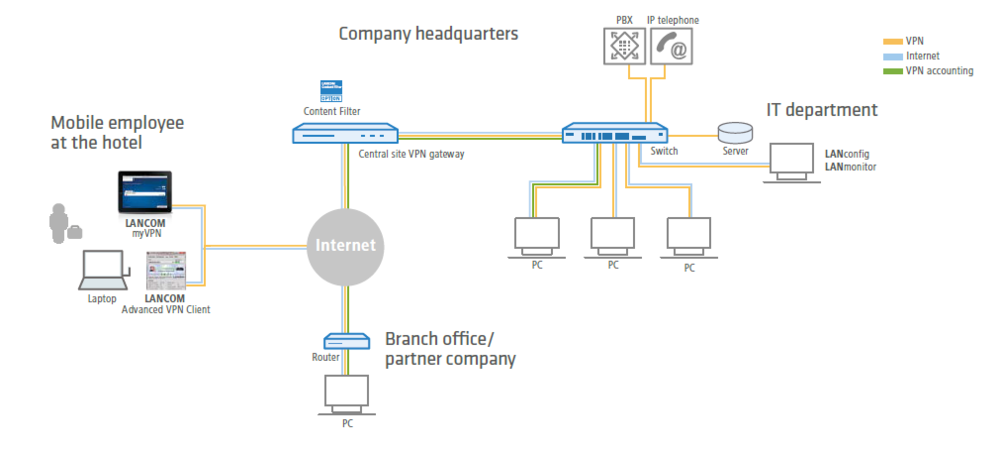 VPN Champion for the fifth time in a row
By once again winning the title of champion in the Virtual Private Network (VPN) solution area in the 2021 "Professional User Rating Security Solutions (PUR-S)" user survey conducted by analyst firm techconsult, LANCOM Systems has become the first manufacturer to win this title so many times in a row, defending its top position in the results diamond.
Find out more.
Inquiry
Would you like to learn more about the network connectivity solutions from LANCOM? We would be happy to advise you:
Inside Sales International Team
Phone: +49 (0)2405 49936 122
Email: sales@lancom.de