LCOS SX Release
The operating system for LANCOM Switches - the LCOS SX - continuously receives innovative new features and improvements due to our in-house development. This guarantees that your internal networking is always state-of-the-art! Download the right SX version for your device now and benefit from new features and improvements.
You will find the current LCOS SX release version as well as all active predecessor releases in our download portal. Simply enter your desired product and download the software free of charge!
Firmware integration of the stackable access switch series GS-4500
Support of the Stacking and LAG (Link Aggregation Groups) functions in the LANCOM Management Cloud
Configuration of PoE ports on GS-4554XP and GS-4530XP via the LANCOM Management Cloud
Switch Config Notifier – as of 5.20 REL, local configuration changes of the switches of the XS and GS-4500 series are reported to the LMC and changed parameters are taken into account by it in the detailed configuration
Activation of the LMC pre-configuration of the GS-3152P.
Fix of a vulnerability in the OpenSSL library (CVE-2022-0778)
Fix of the default route when configuring a fixed IP via the LMC
Fix of a possible connection loss to the LMC in case of IP fallback including static default route
Fix of the transfer of LAG groups (LACP) created via LMC into the running config or startup config of the switch
Configuration of the Spanning Tree Protocol (STP) now possible from the LMC
Fix for a vulnerability in the OpenSSL library (CVE-2022-0778)
Fix for a vulnerability in the zlib library (CVE-2018-25032)
Improvement and a new authentication mode 'MAC-based' single auth` for 802.1X RADIUS
Erasing of persistent event and boot logs now possible from the debug menu (debug; erase persistent-logs)
Software lifecycle management
With LANCOM Systems you have a manu­facturer at your side who offers unparalleled investment protection. The lifecycle policies from LANCOM also provide full transparency and reliable planning with regard to the firmware updates and product support for your LANCOM infrastructure.
LANCOM software release process
Our aim is the optimal preparation of our in-house operating systems LCOS, LCOS SX, LCOS LX, and LCOS FX and other software, not only for its use in practice, but also to adapt it to the wishes of our customers. This is why we enter into active dialog with our customers even during the development phase as part of our release procedure.
Note:
Before upgrading your device to a new firmware it is essential to backup your device's configuration. Due to extensive features it is not possible to downgrade to a previous firmware without using the backup configuration. Never disconnect the device from power supply while updating the firmware. In this case the device won't start again.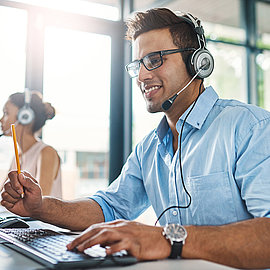 Most questions can be resolved best in direct contact: We look forward to answering your questions and requests by phone or via the contact form.
Inside Sales International Team
+49 (0)2405 49936 122