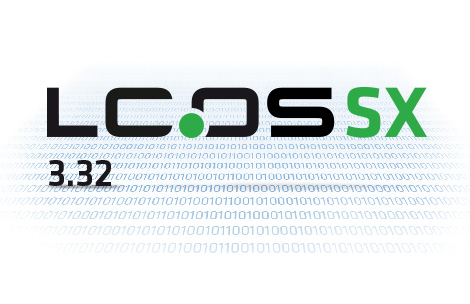 LCOS SX 4.00 Rel und LCOS SX 3.32 RU2
New power for your switches
The operating system for LANCOM Switches - the LCOS SX - continuously receives innovative new features and improvements due to our in-house development. This guarantees that your internal networking is always state-of-the-art! Download the right SX version for your device now and benefit from new features and improvements.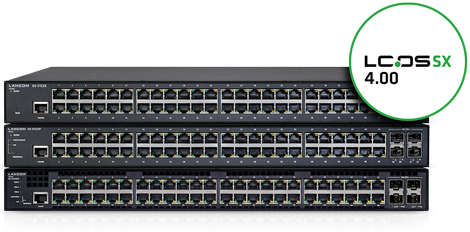 The LCOS SX 4.00 Rel feature overview
Initial release version for all new switches of the series GS-3xxx
DHCP server
Static routing
Unified MIB: Starting from version LCOS SX 4.00 Rel there is a unified SNMP MIB file.
New operating status for the sFlow function: Always ON
The LCOS SX 3.32 RU2 feature overview
Scripting ability via the LANCOM Management Cloud
Added a hint for a not yet saved configuration to the configuration interface
Support of new SFP modules
Selectable minimum SSL and TLS versions to be applied for SSL and TLS configurations
General stability improvements
DHCP Snooping has been optimized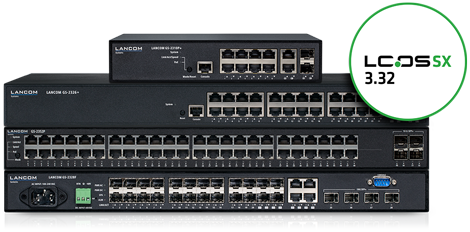 Software Lifecycle Management
With LANCOM Systems you have a manufacturer at your side who offers unparalleled investment protection. The lifecycle policies from LANCOM also provide full transparency and reliable planning with regard to the firmware updates and product support for your LANCOM infrastructure. Read more: Software Lifecycle Management
LANCOM release process
Our aim is the optimal preparation of our in-house operating systems LCOS, LCOS SX, LCOS LX, and LCOS FX and other software, not only for its use in practice, but also to adapt it to the wishes of our customers. This is why we enter into active dialog with our customers even during the development phase as part of our release procedure. Find out more about the LANCOM release process here
Note:
Before upgrading your device to a new firmware it is essential to backup your device's configuration. Due to extensive features it is not possible to downgrade to a previous firmware without using the backup configuration. Never disconnect the device from power supply while updating the firmware. In this case the device won't start again.