LANCOM Fax Gateway Option
The LANCOM Fax Gateway Option conveniently integrates communic­ation via fax via an ISDN connection into your everyday business and modernizes it profes­sionally: Thanks to the "hard fax" solution in the router, you can use fax throughout the entire network – even in the event of a server change. Depending on the router model, 2-8 faxes can be sent and received simultaneously. Benefit from effortless digital migration of faxes to email, mobile device messaging, and digitally storable backups in interaction with fax servers!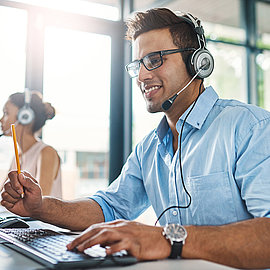 Most questions can be resolved best in direct contact: We look forward to answering your questions and requests by phone or via the contact form.
Inside Sales International Team
+49 (0)2405 49936 122